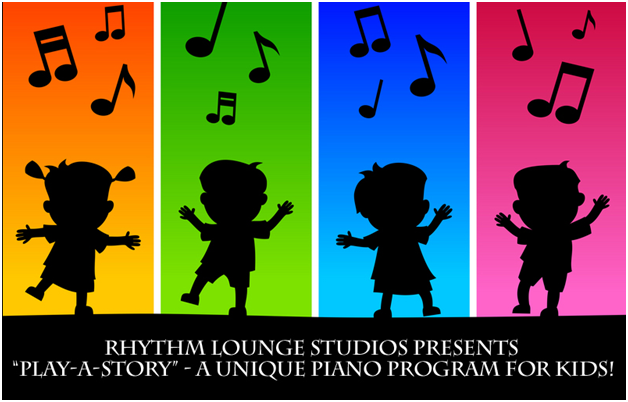 Special TRIAL Class: FREE Piano Toddler Trial Class!
Rhythm Lounge Studio Play A Story
The Play-A-Story program is a musical journey in which teachers and students travel through a storybook world. It uses the piano as its mode of travel, creating sounds, melodies, harmonies and rhythms to express the story… literally, students create their own musical soundtrack. Using the piano, students learn to interpret mood, color and nuance as the story unfolds. Play-a- Story teaches this by providing a foundational, systematic and creative experience that harnesses children's intuitive, musical appreciation and interpretation.
Every student is immersed in the culture of a world that believes that music has the power to emerge naturally from within. The journey begins before students ever learn to play another composer's music; they begin with the opportunity to discover their own musical 'story'. Students are given musical sounds, motifs, styles, shapes and dynamics, laying down a comprehensive, improvisational foundation that equips them with the sounds of their new musical language.
FREE TRIAL CLASS: 6 children to a class and the classes will last approximately 30-40 minutes.
AVAILABLE DATES:
Mon. 10/10 & 10/24: (11am, 11:30am, 12pm)
Thurs. 10/20 opportunities too. (10am, 10:30, 11am, 11:30am)
ENROLLMENT COST: The cost is $169 a month and is payable monthly (not drop-in). It is an on-going program that typically last about 12-18 months. There are material fees (about $55 per book/DVD and each book would last about 4 months)
OFFICIAL HHH Members: 10% discount on the tuition rate
AGE REQUIREMENT: We'll have two groups 2.5 year olds with 3 year olds and 3 year olds and up!