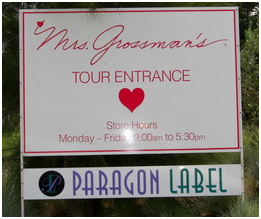 Wed. Nov. 2nd: STICKER FACTORY TOUR! Join us at Mrs. Grossman's Sticker Factory Tour in Petaluma, we have TWO tours, one at 11 am and 2 pm, maximum of 15 people per tour. See how stickers are made & create a sticker project too! $7.00 per Adult, $5.00 kids under 12 years old, 3 & under FREE. Carpooling Available!
You will have a great time on our tour. It starts with a colorful, captivating five-minute video and then it's right on to the factory floor with your tour leader. Get up-close and personal as you see how Mrs. Grossman's stickers and Paragon Labels are made. You'll see demonstrations, learn little-known facts and get stickers at each stop on the way. It's amazing how many people and how much technology it takes to make just one little sticker or one simple label. Then it's back to the video room for a really fun sticker art project. You're going to have a lot of fun on this tour! The tour stations or stops include: • Printing • Rewinding and Finishing • Packaging • Recycling • Hot Foil Stamping and Embossing • The Incredible Laserweb (the only one in the world)
The tour takes approximately fifty minutes and begins and ends in our sticker-filled company store.