THINGS TO JOIN! ARE YOU in the KNOW?
1) Have YOU joined MEET UP.com yet? If so, JOIN hhhints.com Meet Up Group and RSVP easily and directly every month as ALL of our events are listed there w/ details too!
http://www.meetup.com/hhhints-com/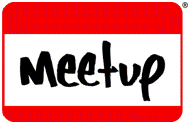 2) Have you joined or LIKED our FACEBOOK pages? Get instant reminders about upcoming events, sneak peek sales, coupons and upcoming activities with access to all of the fun photos!
http://www.facebook.com/profile.php?id=100000444694592
http://www.facebook.com/pages/Hilaries-Helpful-Hints/164260281923
3) Do you know a friend who is expecting or just had a baby? We'd love for them to join us, please invite them to join our FREE newsletter, "Itty Bitty Newsletter!" We even have a special calendar created JUST for them with talks for expectant parents, socials & when the baby's here, 14 months & younger baby activities like "Itsy Bitsy Yoga," "Park Playdates," and more!