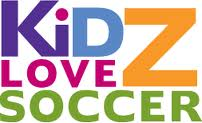 Fri. May 4th: FREE SOCCER TRIAL CLASS
Come try out a FREE Soccer Trial class from Kidz love Soccer for your little one with us on Fri. 5/4 at 10:30 am. We'll be at Pleasant Hill Park, please RSVP: info@hhhints.com for your little one's spot! Classes available all over the East Bay, the Trial class is in Pleasant Hill but their program is at a city near you!
Kidz Love Soccer offers an exceptional, field-tested curriculum that incorporates imaginative games, skill demonstrations and scrimmages in a high-energy, motivating and non-competitive environment. Our enthusiastic and experienced team of instructors love teaching kids, and are great ambassadors for soccer and sports.
Kidz Love Soccer currently offers youth soccer classes and camps to more than 100 communities in California and Washington, teaching more than 40,000 boys and girls each year. We are renowned for our focus on teaching the fundamentals of soccer in a way that improves skills, instills confidence and teaches respect for others.
Mommy/Daddy & Me
(2 to 3 ½ years)
Mommy/Daddy & Me classes are a fun and positive introduction to soccer for our youngest players and their parents! Our age-appropriate and field tested curriculum engages youngsters with entertaining activities that promote motor skill development and cognitive ability.
With a parent participating by their side, kids will have fun learning basic soccer skills like chasing, running, kicking and listening.
Mommy/Daddy & Me classes are 30 minutes long, and meet once a week. Adult participation is required.
Tot-Soccer
(3 ½ to 4 years)
Chase the ball! Tot-Soccer helps kids learn to be part of a structured group activity without a parent by their side. Realizing this can be difficult for young children, our field-tested, age specific curriculum builds confidence and promotes physical development in a safe, supportive and fun environment.
Tot Soccer focuses on helping kids develop their large motor skills through skill demonstrations and entertaining games like Bugs in the House! These games build skill and self-esteem and prepare tots to start running and kicking – just like the big kids!
Tot-Soccer classes are 30 minutes long and meet once a week.