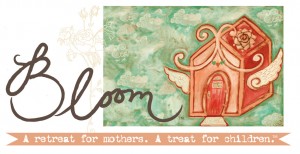 Mother's in Bloom Week May 9-13th:
Childcare half off all week long!
Open House, Crafts, Prizes, Massages, and More
Join us for a Free Bloom Open House on Thursday May 10th from 1-4:30. We will have special guest like Sports Basement and Lululemon offering great prizes. Raffles, face painting, crafts, and more. Come play in our playroom and enjoy a cup of tea.
Zumba Party and Happy Hour, Tuesday May 8th 4-6pm
Party yourself into shape with a Zumba class while you feel the music and let loose! Get grooving at your own pace with a Zumba class designed specifically for mamas. You will benefit from fun and stress-free exercise. This class is like exercise in disguise. After class wind down with a glass of wine or cup of tea, tasty treats, and socializing at our Bloom Happy Hour! Mamas deserve to let loose and unwind. $10 for members and $14 for non-members. Childcare available at half price during our Mother's in Bloom week. Make sure to reserve your space so we know you are coming!
Couples Yoga Retreat Night with Childcare
Join Founder and Yoga Instructor, Michelle Long, for a special Date Night at Bloom. We will start the night off with a Couples Yoga class, and end with wine time and socializing. This is your time to retreat and enjoy each other while your children are cared for in our amazing playroom!
Couples Yoga brings two people together in a way that is playful, challenging, and relaxing. The practice combines new and familiar yoga postures with conscious breathing, partner stretching, and massage. It can help build trust and communication, and presents an opportunity to connect and play with those we love. After class sit together, have a cup of tea or a glass of wine and enjoy some much needed time as a couple. Bring your kids in their pajamas for a pajama fiesta! They will enjoy crafts, story time, puppet shows, and organic nut-free treats! Friday, May 11 from 6:30 to 8:30 PM Members: $60 per family (up to two children) additional child is $5 Non- Members: $65 (up to two children) additional child is $5 Price includes a 75 minute Couples Yoga class for two, two hours of childcare for up to two children, a glass of wine and or tea, and time to retreat with your loved one after class.