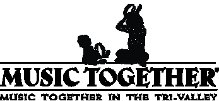 FREE MUSIC TOGETHER CLASS TRIALS!
Check out these THREE Tri-Valley locations!
FREE TRIAL CLASSES!  SAVINGS!  OHM's ALSO save an additional $20.00 off EACH session as one of your MEMBERSHIP perks! Just apply the unique code once your membership is activated & current!
Friday, Sept. 5th at 10 am at Contra Costa Ballet in Walnut Creek
Tues., Sept. 16th at 9 am and 10 am at Music & Beyond in Dublin
Wed., Sept. 10th at 10 am at Blackhawk Plaza Danville
A little bit about Music Together in the Tri-Valley-we offer classes for children ages zero through five to attend with a parent or caregiver (we also offer Big Kids classes for children 5-7). Our classes last 45 minutes and are filled with singing, dancing, and instruments and are fun for babies, children and adults alike. Besides having lots of fun, the goal of our program is to develop basic music competence for children which means they will learn to sing in tune and move their body accurately to the beat. Research shows that these skills are not something we are born with or without, but actually can be attained by most of the population with appropriate early childhood music experiences. Every semester we offer over 40 different classes in Walnut Creek, Danville, San Ramon, Pleasanton, Dublin and Livermore.
To learn more, you can visit www.musictogether.net.